Best Car Phone Mounts for the Safest Hands-Free Driving Experience!
A car phone mount is one of the most useful accessories you can add to your car, as it encourages the legal and safe use of your smartphone as a navigation system and hands-free device when on the road. These mounts come in a variety of designs and styles to suit your needs and provide significant benefits to your convenience and road safety. In this article, we have compiled the best car phone mounts on the market for you!
What Type of Car Phone Mount Is Right for You?
Selecting the right phone mount depends on the phone you have, how you plan to use it while driving, and the interior of your car. There are many types of car phone mounts available, including options for your windshield, dashboard, CD slot, and air vents.
Windshield Mounts
Windshield mounts are the most common of all car phone mounts, as they keep your phone at eye-level. This is especially useful if you use your phone for navigation, as you never have to stray your eyes from the road for direction, making it one of the most secure options on the market. However, windshield mounts can be cumbersome and obstruct a small portion of your driving view, which can be undesirable because of safety implications.
Dashboard Mounts
Dashboard mounts are popular, but they only suit vehicles with lots of free dashboard space. Dashboard car mounts let you secure your phone in place and enable you to adjust the angle of your phone without ever obstructing your view of the windshield. We do not recommend this car phone mount for anyone with expensive dashboards, as the suction caps can leave behind sticky adhesive residue on the material.
CD Slot Mounts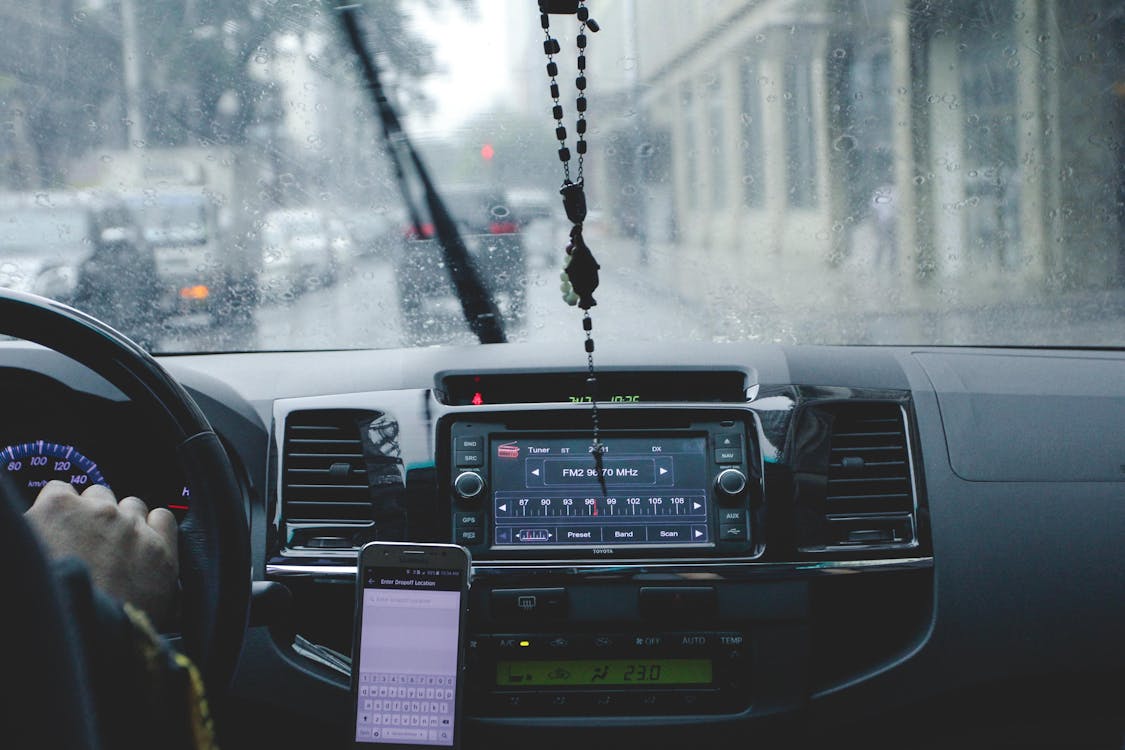 With the constant evolution of digital music, CDs are far less common now, making CD slot phone mounts also less popular. However, these mounts offer easy installation and have the benefit of positioning your phone closer to your eye level and charging port without obstructing the field-of-view of your windshield. CD slot phone mounts are the most secure design on the market, but if your CD slot is low in your car's interior, then these mounts may not be the best choice, as they will take your eyes further away from the road.
Air Vent Mounts
Air vent mounts are among the easiest designs to install as they are universally compatible with all phones. All you need to do is attach the magnet strip of the air vent mount to the back of your phone, or phone case, and secure it in place. Just be mindful not to keep it in front of super cold or super hot drafts of air for long periods.
Related Reading: Everyday Safe Driving Tips: How to Avoid Distractions on the Road
Best Car Phone Mounts We Reviewed
There are many benefits that come from having a car phone mount, including personal luxury, convenience, safety and enjoyment. Below are our favorite car phone mounts. We based our recommendations on features, brand reputation, and use.
iOttie Easy One Touch 4 Dash & Windshield Car Mount Phone
Buy on Amazon
The iOttie Easy One Touch Car Mount sports an easy-to-use design that can secure your Android or iPhone to the dashboard or windshield of your car. It features an Easy One Touch mechanism that allows you to secure or remove your phone with a single gesture. The telescopic arm keeps your phone steady and enables you to alter its position with ease.
This car phone mount is durable, easy to install, compatible with all smartphones and its excellent screen visibility ensures safe usage on the road. This model comes with a manufacturer's 1-year warranty for added confidence.
Mpow 051 Car Phone Mount, CD Slot Car Phone Holder
Buy on Amazon
With easy installation into your car's CD slot, the Mpow 051 Car Phone Mount is a cost-effective and convenient option for your vehicle. Even though CD slots are not as common in newer car models, this mount stabilizes your phone in the perfect charging position with no obstruction to your field of view.
The mount also provides 360 degrees of rotation, so you can position your phone at the optimal angle. Other key features include an accessible headphone jack and universal compatibility with smart phones.
Beam Electronics Universal Smartphone Car Air Vent Mount Holder
Buy on Amazon
The Beam Electronics Universal Smartphone Car Air Vent Mount is compatible with most smart phones (excluding Google Pixel 5) and boasts a soft padded cradle to protect your phone from bumps and scratches. The Beam Electronics design is easy to install, as you only need to latch the mount onto your air vents and you are ready to go. The placement on the air vent eliminates any potential obstruction of your view and provides extra stability when driving.
The mount's durable design enables it to withstand hot and cold conditions in front of the air vents and its quick release function makes accessing and moving your phone in the cradle a breeze. Beam Electronics also offers a 1-year warranty on this car phone mount for additional confidence.
EXSHOW Car Mount, Universal Windshield
Buy on Amazon
The EXSHOW Car Mount is a stable device that will protectively hold your phone onto any windshield no matter the conditions of the road you're driving on. This car phone mount combines a suction cap and a sticky tab to form a strong hold on the glass, while its three-point grip prevents the phone from falling out of the cradle. Another key feature is its 'Easy To Mount' design, which allows you to adjust your phone to the optimal viewing angle with the push of a button.
Magnetic Mount, WizGear [2 PACK] Universal Air Vent Magnetic Car Mount Phone Holder
Buy on Amazon
One of the simplest but most effective car phone mounts on the market, the WizGear Universal Magnetic Mount is cost effective and is easy installed onto the air vents of your vehicle. Once in place, you can attach a separate thin magnetic strip to the back of your phone or phone case, enabling for a firm connection on rough roads. These magnetic strips can swivel back and forth, so you can adjust the angle of your phone to suit your needs.
This car phone mount is universally compatible with all smartphones, regardless of size, and comes as a two pack, making it excellent value for money.
Arkon Car Mount Phone Holder
Buy on Amazon
Compatible with most smartphones, Arkon's Car Mount Phone Holder boasts a sleek design with an adjustable arm that can rotate 360 degrees, and hold any smartphone up to 3.64 inches in width. The mount base features a sticky suction cap to provide a superior bond to smooth or textured surfaces on your dashboard or windshield, and ensure your phone will not move during your journey, even if you drive on the roughest roads. This suction cap is reusable and washable for convenience.
The back of the Arkon's car phone mount is open, allowing you to access the picture or video function on your smartphone, and the model comes with a 2-year limited warranty for confidence.
Vansky 3-in-1 Universal Cell Phone Holder Car Air Vent Holder
Buy on Amazon
For maximum versatility, the Vansky 3-in-1 Universal Cell Phone Holder can be mounted to the car's windshield, dashboard or air vents. Its long, flexible arm has a 360 degree rotation, allowing you to adjust your smartphone between portrait and landscape viewing with ease.
The mount is easy to install, with no need for tools and the strength of the suction cup on the base of the mount will keep your phone secure during your journey. This car phone mount is compatible with most smartphones, including Apple iPhones 4 – 7Plus, and the Samsung Galaxy S6 and S7.
Fonus Rotating Car Mount Dash Windshield Holder
Buy on Amazon
Equipped with adjustable grips and a cradle, Fonus' Rotating Car Mount can hold your phone in a vertical or horizontal position on any terrain. The strong suction cup on the mount's base and its quick-release button allow for the secure and convenient use of your phone. This car phone mount is compatible with most devices up to 5 inches in width, including smartphones, iPods, and MP3 players. We recommend this car mount if you're looking for one of the steadiest grips on the market.
iOttie Easy One Touch 2 Car Mount Holder
Buy on Amazon
The iOttie Easy One Touch 2 Car Mount Holder has an impressive telescopic arm which you can adjust to position your smartphone closer or further away from you. Its quick release technology and special dashboard mounting pad ensures a secure hold, while its open base provides convenient access to the charging port and the headphone jack.
This car phone mount is compatible with most smartphones and its solid, sturdy design fits on any dashboard or windshield, making it an ideal option for trucks or larger vehicles. Its telescopic arm allows for more close-up viewing and its quick release button makes mounting and releasing your phone a breeze!
IPOW Upgraded Truck Phone Mount Holder
Buy on Amazon
The holding strength of the IPOW's Upgraded Phone Mount Holder is perfect for trucks and cars alike. With a clamp, reusable suction cap, and a sturdy base, this car phone mount will secure your device safely within your field of view and close to your fingertips on your windshield of dashboard. IPOW's mount also features a layer of shock adsorbing sponge in the base to reduce bumping and shaking while travelling on rough roads.
This mount boasts a 360 degree rotation, so you can adjust your phone to the perfect angle, and it is compatible with most smartphones, as the clips of its cradle can expand up to 3.5 inches.
The Verdict
These are our top 10 picks for the best car phone mounts available. Overall, we believe the WizGear Magnetic Mount is a standout from the rest, as its extra stability and security gives you the freedom to concentrate on the road. The WizGear Magnetic Mount's design is universally compatible with smartphones and navigation devices, and its magnetic strips create a firm hold that will maximize your overall driving experience!
The superior features and functionality of the WizGear Magnetic Mount make it an ideal asset for your car, your phone, and your safety. Good luck in your search for the best car phone mount, and happy driving!
Last update on 2021-01-22 at 04:16 / Affiliate links / Images from Amazon Product Advertising API