How to Buff a Car to Be Spotless and Clean
While driving on the road, your vehicle is exposed to the elements and harmful contaminants every day. Dirt, mud, insects, pine sap, bird droppings — these can all affect the overall condition of your car's paint and exterior. That paint protects your car from all these, but it can only do its job if you do your share in maintaining and keeping your car clean. Washing your vehicle alone won't remove all the deep-seated dirt and contaminants. If you've never tried it, we're here to guide you through the steps involved in how to buff a car.
What Is Car Buffing?
Car buffing is basically polishing a vehicle with a buffer. Buffing can be done by hand (using a rag and a buffing polish or compound), with a dual-action, random orbital buffer, or with a high-speed rotary buffer that's mostly used by professionals.
The process of polishing basically covers large and visible scratches with smaller and smaller scratches until they become invisible. However, polishing alone will only make your car look good to a certain point. This is why buffing is necessary.
Is Car Buffing Necessary?
Because your car is always exposed to the elements and to various contaminants, it is unavoidable to find scratches, areas of oxidation, and some other imperfections on the paint. Buffing your car removes the layer of imperfections to expose a fresh layer of paint. Doing so brings back its original glossiness and improves the overall appearance of your vehicle.
Car buffing every 2 to 3 months is recommended as it will help maintain your car's finish longer. Knowing how to buff a car on your own can do wonders for your car's overall look. Why put up with unsightly scratches and imperfections when you can have a shiny, scratch-free car instead? Don't ignore those little nicks and scratches as they may cause bigger problems later on, like rust.
Choosing the Right Buffer and Polish
In the process of learning how to buff a car, there are three types you can choose from: a high-speed rotary buffer, a random orbital buffer, or manual (or hand) buffing. Let's elaborate on each one to know their differences.
Types of Buffers
High-Speed Rotary Buffer
Because a high-speed rotary buffer runs at 1,000 RPM, it is capable of removing surface scratches completely and produces optimum results. High-speed buffing also creates a long-lasting luster as compared to other buffers. However, a high-speed buffer also requires a trained and steady hand to operate it.
If used improperly, a high-speed buffer may also burn paint or melt plastic, so exercise caution when handling one. Make sure to practice and train on the proper usage of this equipment lest you might end up causing more damage, swirls, or scratches to your car's finish. Because of the risks involved, high-speed buffing is mostly recommended to be performed on cars with severe oxidation, swirls, and deep scratches.
Random (Dual-Action) Orbital Buffer
If you choose to use an orbital buffer instead, it will still produce great results (although not as thorough and as long-lasting as what a high-speed buffer can do). An orbital buffer will still give you the shine that you want, but most likely won't be able to eliminate scratches or damage to the paint. An orbital buffer is used by professionals mostly for finishing work or for removing small surface damage (such as chemical etchings from bird droppings, pine sap, and others)
The good news is that an orbital buffer does not require training and uses less buffing polish or compound as compared to a high-speed buffer. However, you might need to buff your car more frequently.
Manual or Hand Buffing
If you don't have any of these mechanized buffers, you can resort to buffing your car manually. This will entail more effort, polish, and time though, and the results won't be as even or as lustrous. Manual buffing is capable of leveling a painted surface around a minor scratch to make it disappear.
Buffing Polish or Compound
Whichever method on how to buff a car you choose, you will need a reliable buffing polish to do the job. Make sure to pick one that suits your desired outcome in terms of finish and shine. Keep in mind that each buffing polish is designed to fulfill a certain purpose and application.
Low-quality buffing polishes will not yield optimum results compared to high-quality ones. Before deciding on which buffing polish to use, consider your car's paint thickness, hardness, and condition as well as the car model and year. Read the specifications and instructions on the labels thoroughly before purchasing a buffing polish to ensure that you're choosing the right one. To remove deep scratches or marks, you will need to buy a compound product instead.
Finding the Right Combination
Both buffer and buffing polish (or compound) are equally important in achieving your desired sheen. In the process of choosing the right buffer and polish, you will need some pointers to guide you through your decision-making. Consider the condition of your car and work with the recommended materials.
For Moderate to Heavy Scratches or Damage
If your car has considerable scratches, swirls and other serious damage to the finish, it is recommended to use a high-quality foam pad with a swirl remover. The speed should be set to 5 or 6 so as to achieve the optimum level of buffing.
For Light to Normal Scratches or Damage
Light damage refers to water etching, regular swirls, or light to moderate oxidation. For this type of condition, a finishing glaze and a foam pad will do. Set the speed between 3 to 5, depending on the extent of the scratches (light or moderate).
For Very Minimal to No Scratches or Damage
If your vehicle's paint is still in relatively pristine condition, your only objective would be to enrich the shine and to protect the surface. A high-quality foam pad and pre-wax polish enhancer are enough to do the job. Set the speed between 1 to 3 only.
Polishing Techniques and Approaches
No one wants to make a major mistake when buffing a car, so it's best to work on your polishing techniques first so as not to cause further damage to your vehicle's paint.
Do a test spot of your buffing polish or compound on the least visible part of your car's paint or on a part that already has considerable damage. You may experiment with several products if you like. Always start with the least potent one and work your way up until you find the best one. You may also want to practice on a piece of scrap metal or on an older car that already has moderate to heavy scratches.
Don't expect to master those polishing techniques right away. The process of learning how to buff a car will be riddled with trial-and-error moments, so be prepared to practice and adjust accordingly. There might even be instances when you already have an approach that works but still end up needing to make a few adjustments along the way.
Bestseller No. 1
BLACK+DECKER 6-inch Random Orbit Waxer/Polisher (WP900)
ELECTRIC WAXER AND POLISHER — Perfect for buffing and finishing cars, trucks, boats,...
RANDOM ORBIT ACTION — 4400 orbits per minute leaves a swirl-free finish and shine
TWO-HANDLE GRIP — Reduce fatigue and work longer with comfortable double-handle grips
Bestseller No. 2
Bestseller No. 3
How to Buff a Car Like a Pro!
You are now ready to learn the steps on how to buff a car as a professional would. Buffing involves two processes: washing it thoroughly first and then buffing with a buffer and car polish after. You will need the following:
Gallon-sized bucket
Car wash-specific soap
Large sponge
Water
Clean microfiber cloths
High-speed or orbital buffer
Car polish (or compound, depending on the extent of buffing needed)
1. Park in the Shade
Buffing your car requires a cool, shady, and secure parking spot. Keep your car away from direct sunlight as you buff because it may compromise your car's paint job. Make sure to park on a safe spot where buffing can be done for a considerable time, as you will need a few hours to accomplish the task. Make sure the weather is appropriate as well!
2. Wash and Dry the Car Thoroughly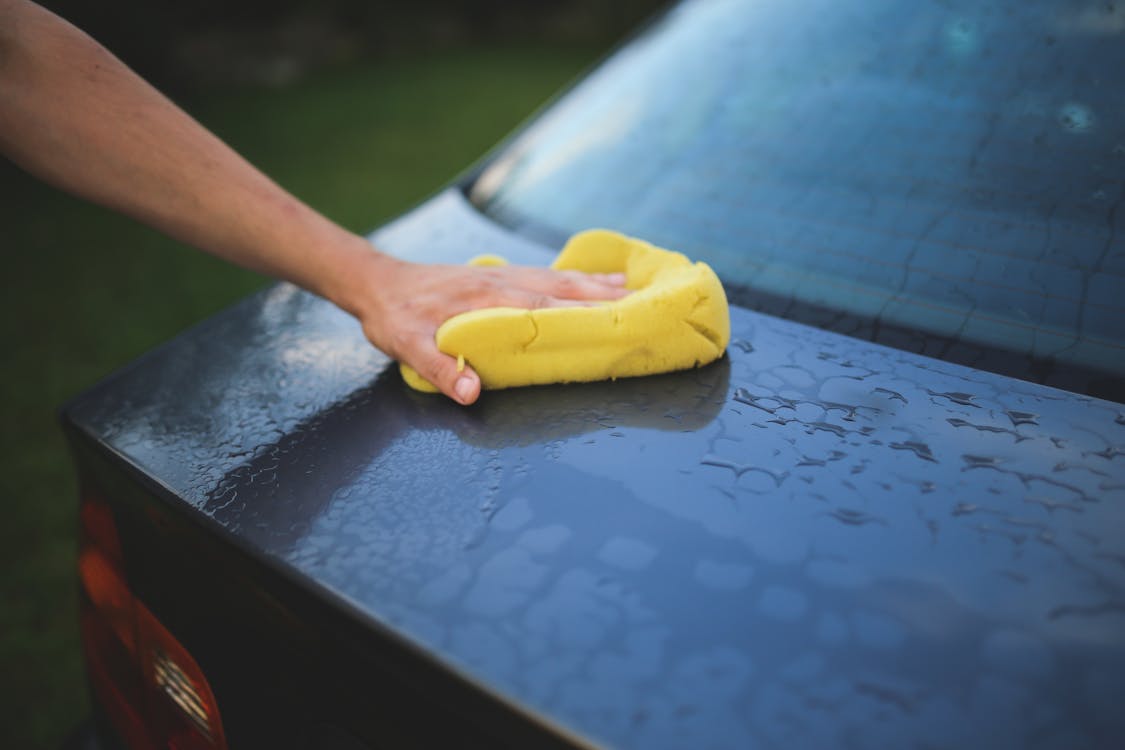 Everything begins with giving your car a thorough clean. Any surface dust or dirt must be removed before buffing. Fill a gallon-sized bucket with water then add soap until suds are formed. (Note: Use a soap that's specially made for car washes and use as indicated in the instructions on the package.) Soak a large sponge into the sudsy water and squeeze out half of the water that was absorbed by the sponge.
Using circular motions, move the soapy sponge across the car's body (from top to bottom, because the dirtiest part is always at the bottom) making sure to focus on cleaning crevices or cracks with trapped dirt. Once you've thoroughly sponged, washed, and cleaned, rinse the soap off thoroughly with water. Dry all surfaces using a clean microfiber towel.
3. Mask Areas That Might Get Scuffed
If you're using a high-speed rotary buffer spinning at 1,000 RPM, it can really do a lot of damage to peripheral areas that don't need buffing. It's best to protect areas that you don't want to get scuffed or damaged by masking them with tape (such as headlights, tail lights, moldings, plastic parts, vinyl or painted pinstripes). If you get polish or compound all over the windows or on vinyl surfaces, wipe them clean with a vinyl and rubber compound spray.

4. Buff and Polish Away
Ensure that the entire car is dry before buffing. Start by applying a generous amount of buffing polish or compound, beginning with the hood, and then work your way to the body and the rest of the car that needs buffing.
If you're using a mechanized buffer, turn the power on, place the buffer on top of the polishing product, and then move the buffer in small, circular but firm motions to spread the polish or compound evenly.
If you're buffing the car by hand, use an old but clean towel or rag and apply extreme pressure on the polish. Use forceful circular motions to spread the polish or compound around the surfaces that need buffing.
Keep buffing the car's surface until you achieve your desired sheen. Don't overdo it though, as it might lead to more damage (especially if you're using a high-speed rotary buffer). Do not put too much pressure on the buffer as it may damage the paint. For added shine, wax your car after buffing to fill in on any tiny scratches that were left behind.
Conclusion
After you've familiarized yourself on the steps involved in knowing how to buff a car on your own, practice them once in a while in order to come up with the best polishing techniques and approaches.
When in doubt, seek professional advice or assistance before purchasing a buffing polish. If you're not yet confident with your skills, have a professional do it first for you. If the paint on your car ever appears too chalky, it means your car's paint is severely oxidized and buffing might no longer be able to bring back its sheen.
Polish and wax your car frequently (even by hand) so you don't have to do high-speed buffing often. Nothing can be more satisfying than bringing back and seeing that wonderful sheen again on your car's finish, and even more so if you can do it on your own. However, buffing can only do so much in reviving and restoring your car's shine. Remember that buffing is only meant to remove old layers of paint to reveal a cleaner layer underneath. If a scratch is too deep and requires too much paint to be taken off, or if your car's paint is generally too thin to expose a fresh layer, having your car repainted might make more sense.
Last update on 2021-03-06 at 11:28 / Affiliate links / Images from Amazon Product Advertising API